Typesafe at 010DEV
---
At yesterday's 010DEV developer meet-up, Typesafe and Lunatech presented Play and Akka to a room full of developers.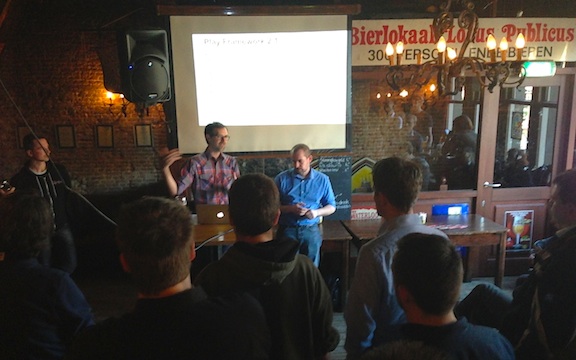 Photo: James Ward (left) and Nicolas Leroux (right) present Play Framework 2.1. Roland Kuhn (far-left) waits to present Akka.
James Ward from Typesafe joined us after presenting with Nicolas Leroux (Lunatech) at Devoxx UK and Devoxx FR last week. Roland Kuhn, Akka tech lead at Typesafe, travelled from Sweden.
James and Nicolas live-coded a Play framework application that used the meetup.com API to select a competition winner from the list of attendees. Robert Bakker won a free place on the Fast Track to Play with Scala training course at Lunatech on 30-31 May 2013.
Locus Publicus remains a popular choice of venue, with the facilities this kind of event needs: a projector, a bar and a great beer selection. For this event, Lunatech sponsored the beer.
Although we created 010DEV to be a community of Rotterdam-based developers, this event attracted people from further afield, including five developers who travelled from Belgium.