Lunatech Golf Invitational 2009
---
On 14 August, 2009, the Lunatech Golf Invitational was held at the Golfbaan Rottebergen. This year we had 25 golfers that played in the tournament, and 20 Persons taking part in the clinic. Not too bad considering we are in the holiday high season.
The first flight of Ron Felius and James Wang went off at 12:15. James, who had to leave early and missed the awards ceremony thought he was safe with his score of net 73 and 34 stableford points. But this proved not to be the case. After the first two holes I realized that I would never be in contention for the Cup. However I still had a very nice afternoon playing in a flight with Patrick and Floris. Once they got over the shock of being outside the Amsterdam Ring, they settled in and enjoyed the beauty of the Rottebergen.
The clinic kicked off at 14:30. The enthusiasm was high, the pro's said they had difficulty getting people to the terrace for a drink when the clinic was over. of course, getting to the 19th hole is never a problem for a seasoned golfer. A few of the clinic players have already said that next year they will be playing in the golf event, this was nice to hear.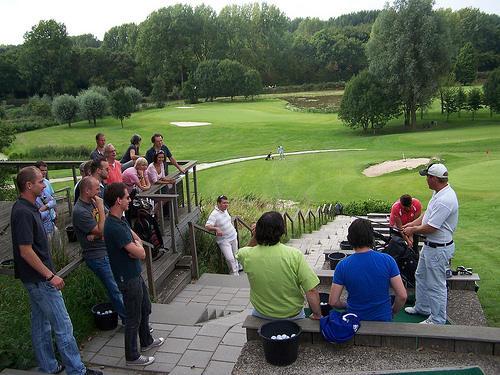 The prizes
While winning is not the most important thing, it is always nice to come home with a trophy or a bottle of wine. In some cases, both. This year we have the following winners:
Longest drive ladies - Janneke Spaan won the longest drive for the ladies with a monster drive of 240+.
Longest drive men - Ferdinand Houwink won the longest drive for the men, nobody else hit the fairway in regulation.
Neary - Danny Fiere won the closest to the pin, he could be heard yelling repeatedly "here it is" while the rest of his flight was looking for his shanked shot off to the right…
Cup winner - Mark Hillen was the overall winner, winning both the stableford AND strokeplay trophies. Time for a handicap correction Mark?
Other - Michael won the Silvio Ferrero trophy for most provisional tee shots required (and played).
Driving Clinic - Eric-Paul Scholten won the driving contest, he took his aggression out on the balls instead of customers.
Putting Clinic - Stefan Versluis won the putting clinic, as putting counts for 40% of your golf score we expect great things of Stefan in next years event.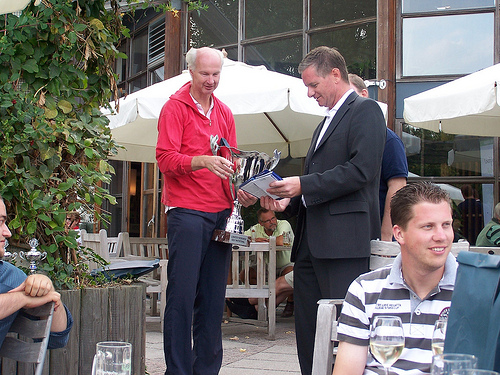 Until next year
We hope that everyone had an enjoyable day. We look forward to inviting you all again next year. We hope that Mark will come back and defend his Lunatech Invitational title in 2010. Next year we wil try to schedule it earlier in the year so as not to conflict with the summer holidays.