Lunatech Golf Invitational 2008
On September 26th, 2008, the Lunatech Golf Invitational was held at the Golfbaan Rottebergen. After a few minute last minute cancellations, due to obligations on the European and American tours, 21 players set off to win the coveted event. There were two major prizes which the players were competing for: stableford scoring and stroke play.
After drinking some coffee, confusion, late arrivals, and last minute shuffling of flights, the event kicked off at 12:01 under beautiful skies.
The first flight were on top of the leader board, albeit short-lived. Paul had the closest to the pin sewn up (or so he thought), Ferdinand had both the stableford and the stroke play in hand (until he made a miscalculation, see below), and Michael was seen muttering to himself on every shot. While there was strong competition for the trophies in all the flights, there was also ferocious competition for the sympathy prize. The locals who go fishing for lost balls will have a bountiful harvest this year.
Before dinner, the awards were handed out during the drinks reception:
Barlies won the longest drive for the ladies

Martijn won the longest drive for the men

Pascal won the closest to the pin

Rogier Van den Heuvel won the stableford AND strokeplay (see note)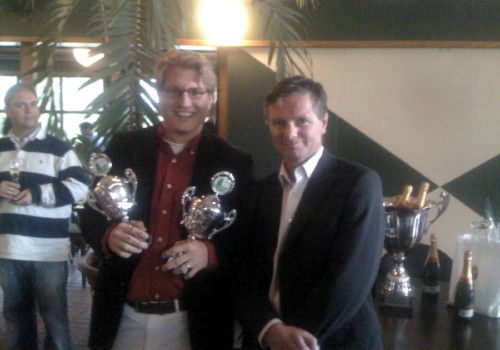 As said earlier, Ferdinand was playing well and on hole 10 he gave up after having a bad hole but only being 10 meters from the hole. Had he gotten down in less than 4 from there he would have won the stroke play. In good spirit, Rogier gave him the stroke play trophy, the sign of a true champion!
After the awards ceremony we enjoyed a dinner together, accompanied by some wine, excellent company, and golf stories. Most importantly we enjoyed a lovely day while others were forced to work. We are looking forward to seeing you all at next years event, we will try to improve on all aspects of the Lunatech Invitational.